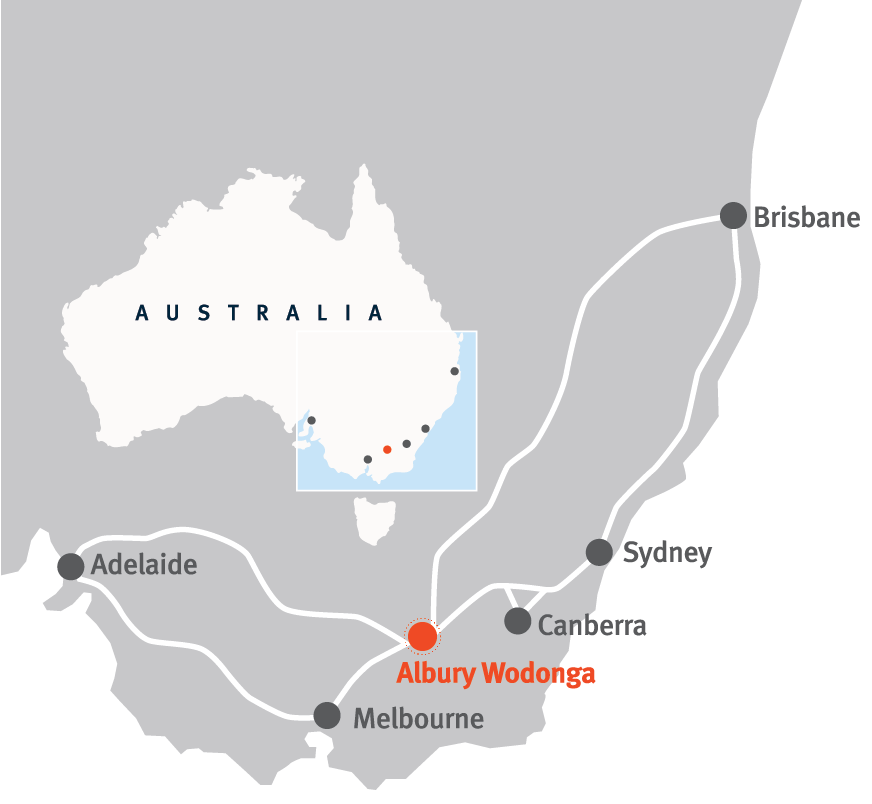 Albury Wodonga is recognised as Australia's 20th largest city with a combined population of around 100,000 residents.
The cities are strategically located on either side of the Murray River approximately 300 kilometres north-east of Melbourne and 580 kilometres south-west of Sydney.
The Albury Wodonga economy is strong with both cities performing significant roles in the region. The combined gross regional product for Albury Wodonga is $7.667 billion.
Population
Albury Wodonga is the 20th largest city in Australia and one of the nation's largest single regional inland communities.
With a population of around 100,000, Albury Wodonga is a major centre providing employment, shopping, education and critical health, professional, recreational, entertainment and cultural services for the region's residents.
Top 5 Industry Sectors
It is estimated that 37,296 people work in Albury Wodonga. The region represents 37.86 % of the 98,492 people working in Hume Region, 1.24 % of the 2,996,038 people working in New South Wales, 1.54 % of the 2,421,985 people working in Victoria and 0.38% of the 9,824,444 people working in Australia.
This is Albury Wodonga as 100 people
52
AGED BETWEEN 20-59 YEARS
18
AGED BETWEEN 60-79 YEARS
28
ARE COUPLES WITH CHILDREN
12
ARE ONE-PARENT FAMILIES
27
ARE COUPLES WITHOUT CHILDREN
24
HOUSEHOLDS HAVE AN INCOME OF MORE THAN $2000 A WEEK
33
COMPLETED YEAR 12 OR EQUIVALENT