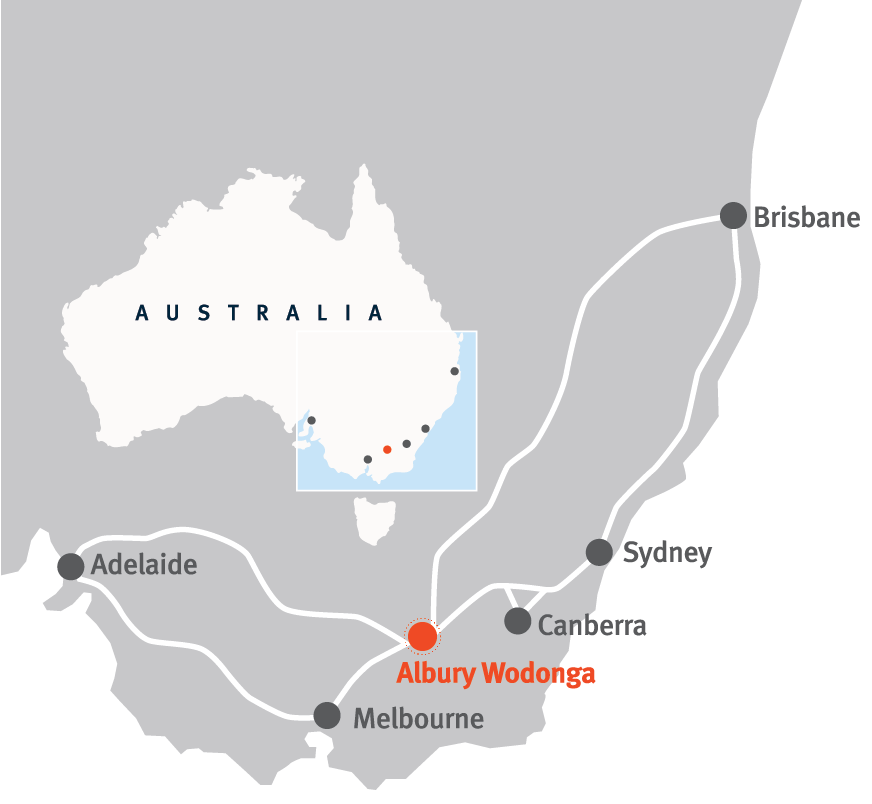 Albury and Wodonga are located on opposite sides of the Murray River, with Albury located in New South Wales and Wodonga located on the Victorian side of the border. The cities are approximately 300 kilometres north-east of Melbourne and 570 kilometres south-west of Sydney.
Strategically located between Melbourne, Sydney and Canberra on the Hume Freeway and Inland Rail Corridor, and in heart of the Riverina Murray, Albury Wodonga supports around 8,000 local businesses which contribute more than $7.3 Billion in Gross Regional Product annually. Both Albury and Wodonga have significant tracts of master-planned residential land with a combined capacity for more than 100,000 additional residents, major industrial developments and community infrastructure.
With an abundance of high quality, competitively priced commercial and industrial land and first-class road, rail and air freight and passenger networks to connect businesses to their major markets, both nationally and internationally, Albury Wodonga is primed to attract new and existing business investment.
As a major regional centre we have immediate capacity for growth, where congestion is not a factor, commute times are short, productivity is high and the lifestyle offer is outstanding. We therefore offer a real alternative to the congestion of the major capital cities and can position ourselves to leverage off the opportunities this brings, as well as continuing to improve the lifestyles of our existing community.
Albury Wodonga with growth in both residential and Central Business Areas, is alive with possibilities and has the potential to identify a point of difference in its future plans and profile. We have the opportunity to play a role in the international arena – and take with it accessible options to our community for growth, investment and visitation.
Albury is bound by Greater Hume Council in the north, north-east and north-west, while Wodonga is bound by Towong Shire in the south-east and Indigo Shire in the south and south-west.
Population
Albury Wodonga is the 20th largest city in Australia and one of the nation's largest single regional inland communities.
With a population in the order of 100,000, and servicing a regional community in excess of 180,000, Albury Wodonga is the major centre providing employment, shopping, education and critical health, professional, recreational, entertainment and cultural services for the regions residents.
Between 2017 and 2036, the population for Albury Wodonga is forecast to increase by 30,354 persons (32.25% growth), at an average annual change of 1.7%.
Top 5 Industry Sectors
It is estimated that 37,296 people work in Albury Wodonga. The region represents 37.86 % of the 98,492 people working in Hume Region, 1.24 % of the 2,996,038 people working in New South Wales, 1.54 % of the 2,421,985 people working in Victoria and 0.38% of the 9,824,444 people working in Australia.
This is Albury Wodonga as 100 people
52
AGED BETWEEN 20-59 YEARS
18
AGED BETWEEN 60-79 YEARS
28
ARE COUPLES WITH CHILDREN
12
ARE ONE-PARENT FAMILIES
27
ARE COUPLES WITHOUT CHILDREN
24
HOUSEHOLDS HAVE AN INCOME OF MORE THAN $2000 A WEEK
33
COMPLETED YEAR 12 OR EQUIVALENT
Our Community Strategic Plan defines our Two Cities One Community mission and the long-term goals for our partnership.
The Two Cities One Community Action Plan 2017-2021 has been adopted. This Action Plan details our shared long-term goals.
We have developed an Action Plan for 2021-2022 and separated these into our operational projects, and those projects that are more strategic and ongoing.
2021-2022 Operational Action Plan
2021-2022 Strategic Action Plan