Cities launch new arts and cultural festival
Cities launch new arts and cultural festival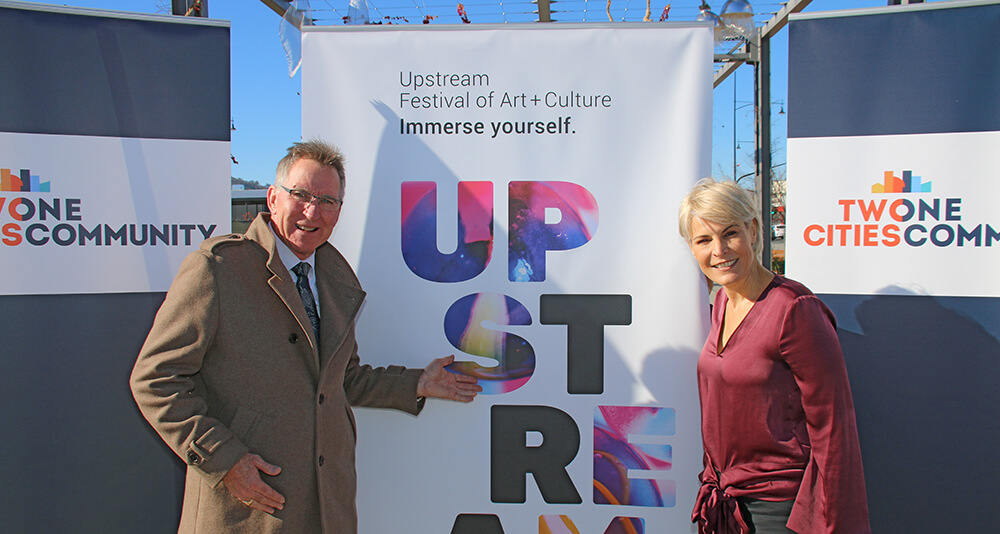 Cities launch new arts and cultural festival
---
AlburyCity and Wodonga Council will host a new four-day arts and cultural festival that will span both cities in March next year.
Upstream will be an arts and culture festival that will give everyone a chance to explore an immersive experience of nationally acclaimed artists and local performers across four days, two cities and one amazing festival.
It will be held over the Victorian long weekend from March 6 to 9, 2020.
A festival of regional significance that draws regional and national visitors to Albury Wodonga, planning is well under way for a celebration of collaboration and connection, art and culture, and local food and beverage.
The program will focus on art installations, theatrical experiences, quality music entertainment, spectacular artistic performers that defy space and height, exhibitions and professional development opportunities.
AlburyCity Mayor Cr Kevin Mack and Wodonga Mayor Cr Anna Speedie launched the new festival and brand saying the festival would be unique to the Border and would have something for all ages.
"This festival will give everyone a change to explore and experience opportunities featuring nationally acclaimed artists as well as putting a spotlight on some of our local talent," Cr Speedie said.

"With experiences happening right across the four days, alternating between the two cities, Upstream will be a great showcase of Albury-Wodonga and the region."
Cr Mack said the festival would bring additional visitation and an economic boost to the Border economy with visitors and residents expected to enjoy the festival over the four days.
"We know that arts and cultural experiences are a key tourism driver and we expect to see an additional $2.5 million injected into the Albury Wodonga economy from the festival weekend alone," Cr Mack said.

"The festival will be family-friendly, have lots of free activities and be accessible and so will be about experiences that people can share across generations.

"Our local cultural organisations are already involved but we encourage anyone who is interested in being a part of the festival to contact our events teams to find out more."
The festival's locations include Noreuil Park, Belvoir Park, Gateway Island, Junction Square and The Cube Wodonga.
The festival reaffirms Albury Wodonga's recognition as one of 20 cultural hotspots across Australia.
The name Upstream places the focus on the natural landmark of the Murray River and the meeting point of the two cities.
In an artistic sense, to go upstream is to go against the current and this name could suggest a cultural festival full of daring or unexpected experiences.
Upstream is part of the Two Cities One Community partnership and is a key action in the strategic plan.
---